Scripts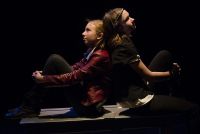 My first YA play was produced in November 2015, as part of Seattle Public Theater's youth program. Dimension Force is a team of exceptional agents, assembled from across the multiverse, charged with protecting reality from unusually powerful criminals and technology. More »

---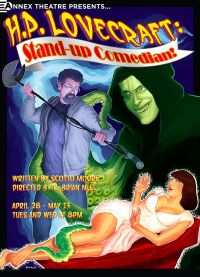 Produced by Annex Theatre, April 2015; remounted for Bumbershoot, September 2015. Instead of expressing his terrifying vision of malevolent, eldritch gods via horror stories in the early twentieth century, H.P. ('Howie' to his friends) Lovecraft expresses his terrifying vision in the present day via stand-up comedy. But an ancient evil stirs beneath the sea— can Howie pull off one last sold-out gig before the human race is destroyed? More »

---
Annex Theatre produced Balconies in August of 2014: The creators of the hit mobile game "Sparkle Dungeon 5: Assassins Of Glitter" are celebrating their latest success with a wild costume party for artists, agitators and hackers. But in the condo next door, a Senate campaign fundraiser is coming to town, attracting politicos, CEOs and media celebrities. As the two events spill out onto neighboring balconies, can an unlikely romance succeed in the midst of steadily increasing mayhem? More »

---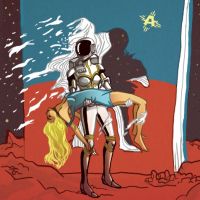 Annex Theatre presented a collection of my short plays as an off night production called Star Crossed, and other tales from a devious universe, Apr 30-May 22, 2013. More »

---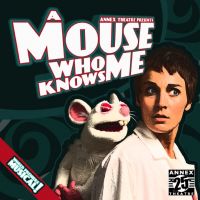 Annex Theatre produced my fourth full-length play, A Mouse Who Knows Me, as part of its 25th season. A Mouse Who Knows Me is a world premiere science fiction musical comedy with book & lyrics by Scotto Moore (Duel of the Linguist Mages), music by Robertson Witmer (of the band "Awesome"), & directed by Kristina Sutherland (artistic director of Macha Monkey Productions). In a genetics lab that is inserting human genes into mice to see what might happen, Dr. Audrey Whitman starts to believe that one of her mice has developed human empathy & intelligence and develops a strange relationship with the mouse she christens Romeo, to the chagrin of her colleagues in the lab. Her mentor secretly plots to use her intelligent mouse to breed a new form of war machine – but neither realize that the mice in the lab have their own plans for bloody revolution. It's an inter-species West Side Story! More »

---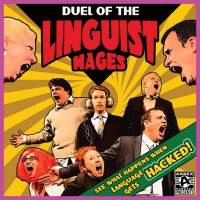 Annex Theatre produced my third full-length play, Duel Of The Linguist Mages, as part of its 24th season in 2011: a dark sci-fi comedy about two researchers who learn to hack the very structure of language at a deeper level than ever before. Their discovery of "power morphemes" – tiny particles of meaning that mean much more than they should – turns out to be unexpectedly dangerous, and shockingly easy to weaponize. As the two researchers gain unprecedented linguistic power, they turn against each other in a struggle to control their new technology. Who will survive the Duel Of The Linguist Mages? More »

---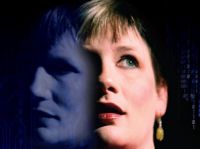 Annex Theatre produced my second full length play as part of its 2010 season, and the script is now posted here. When I Come To My Senses, I'm Alive! is a near-future sci-fi story about a woman who invents a method for podcasting her emotions; but publishing digital versions of her emotions to the internet has unexpected consequences amongst the botnets of the world... More »

---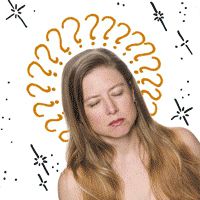 Annex Theatre produced my first full length play as part of its 2008 season:
interlace [falling star]
August 1 through August 30, 2008
In this epic blend of science-fiction and fantasy, a mysterious amnesiac finds herself in the lobby of an infinitely tall building located in the center of the multiverse, the headquarters of the United Association of Interdimensionary Travelers. Her unexplained presence sets off a series of increasingly catastrophic events that not only compromise the security of the Association, but threaten to unravel the entire fabric of creation itself!
More »
---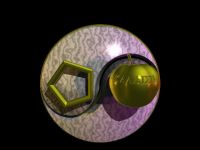 An adaptation for the stage of the original Principia Discordia by Malaclypse the Younger. In this version, Discordianism is presented in terms of strict social constructionism, with nods to the economic underpinnings that brought about cultural unrest in the late '50s such that neo-phenomenological treatises like the Principia could take serious root amongst the disaffected privileged of Western civilization. No, really. More »

---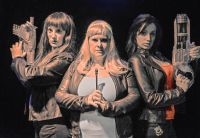 In summer 2015, Pacific Play Company invited me to curate & write for an evening of short play called Crime & Rockets. Humanity's seemingly boundless expansion across the galaxy hasn't come without a price... 'cuz wherever there's humans, there's bad humans. More »

---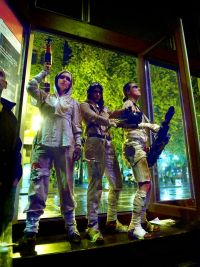 Settlers on a distant planet find themselves in sudden possession of desperately needed supplies - and some very bad news, too. A 14/48 Nordo: Food Theater Thunderdome play. More »

---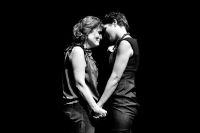 In which the joys of spontaneous marriage proposals are examined. (A 14/48 play.) More »

---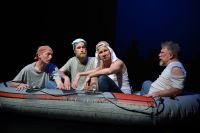 Trapped on a life boat, Weaver thinks it's time to kill Krieger and eat him. (A 14/48 play.) More »

---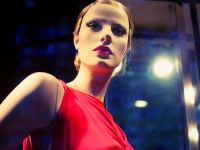 Krieger's girlfriend is in big trouble - starting with the fact that she's a mannequin. More »

---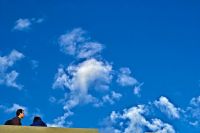 The perils of skydiving when the surface of the planet has gone missing. More »

---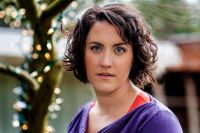 In late April of 2014, my fantastic solo performer friend Yana Kasala asked me to contribute a monologue for her to perform in a piece she was developing called 12 Tongues. More »

---
The One Minute Play Festival premiered in Seattle in May of 2014, and I was invited to contribute a pair of plays. The time limit was (obviously) one minute each; we were given no specific guidance on theme, other than a hand-waving in the direction... More »

---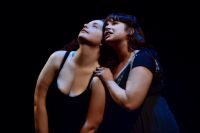 A gamer's luck finally runs out - or does it? (A 14/48 play.) More »

---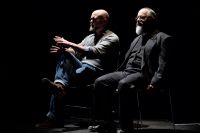 A question of faith is about to be resolved without doubt for two unsuspecting priests. (A 14/48 play.) More »

---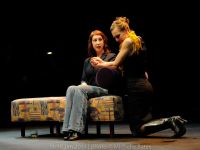 An astronaut's new assignment jeopardizes her marriage in this sweet romantic drama. (A 14/48 play.) More »

---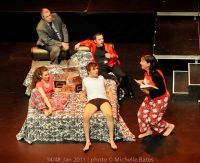 Hijinks ensue when Maribel orders an orgasm machine off the Internet. (A 14/48 play.) More »

---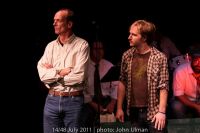 The perils of living with a functioning alcoholic are many - including smashed bottles of bourbon. (A 14/48 play.) More »

---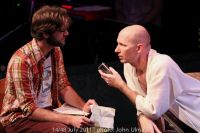 A rock journalist discovers the perils of meeting a long-time idol with a cross to carry. (A 14/48 play.) More »

---
An adventure vacation takes a turn for the unexpected in this romantic comedy. YES I CAN WRITE ROMCOMS, SHUT UP. (A 14/48 play.) More »

---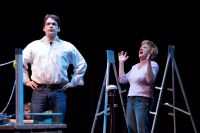 "I'm building a time machine so that I can go back in time and kill Judy Garland." (A 14/48 play.) More »

---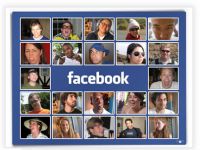 Can Facebook soften the heart of a die hard curmudgeon, and draw her out of her shell? You are invited to find out, in this unexpected (for me, at least) romantic comedy. Also, poke. (A 14/48 play.) More »

---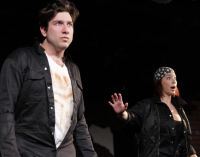 Explorers deep below the surface of the Earth discover an unexpected treasure left behind by a long dead civilization - but getting it back to the surface is a profound challenge in more ways than one. (A 14/48 play.) More »

---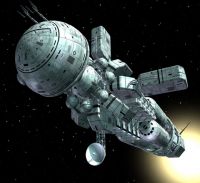 It is the year four hundred thousand... and twelve. The deep space exploration ship Destiny is over 500 years into its mission to chart unknown regions of space. Thanks to nanoengines implanted in their stomachs, the crew will survive indefinitely, as a steady stream of nanoswarms simulate the intake of proteins and nutrients, and engage in constant cellular maintenance and repair. It is a form of technical immortality, given only to those intrepid voyagers who are destined to discover what lies beyond our galaxy. Pause. It is also incredibly fucking boring. (A 14/48 play.) More »

---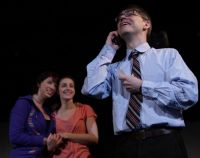 Elvis is back on Earth - for just fifteen minutes. That means just one chance to say the thing he always meant to say. But he wasn't counting on the detour to Pamela's apartment... More »

---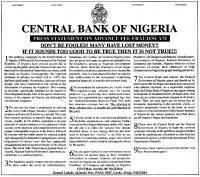 Princes do not sweep in via email and magically deliver 30% of a large amount of cash directly into your purse for you to spend on gold-plated mansions on the moon. They might, however, magically deliver a bit of missing romance. (A 14/48 play.) More »

---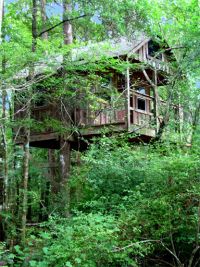 Unrequited love lurks under the surface as the secret counsel meeting of the Mighty Ünderground Midnight Prankster Squad is officially convened. (A 14/48 play.) More »

---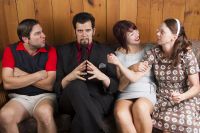 There's trouble in the Satan household when daughter Lilith wants to take someone from across the tracks to prom. (A 14/48 play.) More »

---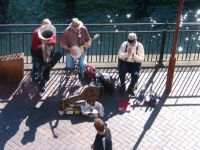 It's Competition Busking at the Olympics: The French pulled out a surprising early lead, fielding a dark horse team that included a comedian, a violinist, and a caricature artist who only works with pig's blood. Then out of nowhere, we saw the Argentineans leap to the front with their team of a naughty snake charmer, a tricycle stunt-rider, and a folk-dancing economist. If the Americans are going to place in this event, they've really got to turn up the heat. (A 14/48 play.) More »

---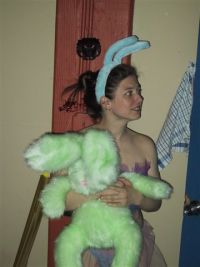 It's a special night in the afterlife, as Santa Claus and the Tooth Fairy await their final judgment from St. Peter. More »

---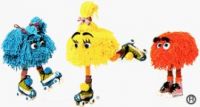 Do you remember when you used to dream about getting away from that nine to five grind, when you dreamt about a life that exceeded your cubicle and whatever excuse you currently have for a career? Do you remember that dream, about a life that was completely extraordinary or at the very least unusual, and things would happen that you couldn't explain and they would be interesting and remarkable, do you remember that dream? Or did you ever wake up from that dream? More »

---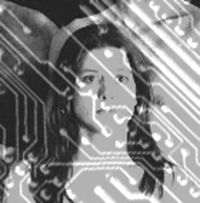 On the Internet, no one knows you're a tortured soul looking for love - except your imaginary friends on IRC. More »

---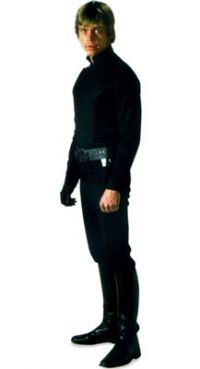 Mark Hamill, star of Star Wars and Corvette Summer, introduces you to the world's most boring woman. More »

---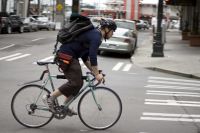 A bicycle messenger delivers a strange package to hapless Martin: a divine artifact called The Voice of the 72 Names, which has inscribed upon it God's phone number - direct dial, no extension. Needless to say, hijinks ensue. More »

---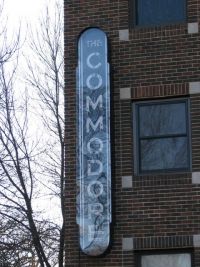 Thomas gets more than he bargained for when he rescues his girlfriend Jessica from a cult. Turns out she wasn't just a victim... More »

---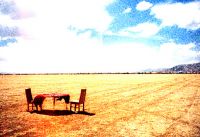 A Burning Man installation / performance piece: a nice little table and chairs, set up like a two top in a nice restaurant, with a beautiful tablecloth, nice plates and silver and two wine glasses, two candles with electric bulbs, and two menus with a script that we had written; each person got sides to read, so if you happened across this installation while wandering the open playa, you'd get an opportunity to do a scene with your friend. More »

---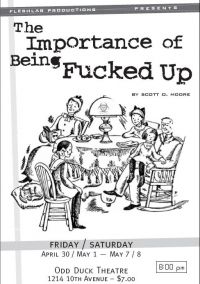 A one-man show I performed once upon a time. Part of an ongoing theatrical series "Angst – It's What's For Breakfast," this show is a searing and hysterical romp, featuring a wide range of spastic characters attempting to answer that musical question: "Huh? What?" More »

---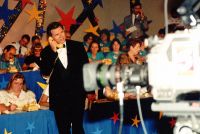 Welcome back once again to the lovely Tony Danza Memorial Palisade Theatre in gorgeous downtown Santa Helvetica, California, for more of this year's annual Maxwell Beep Intellectual Dystrophy Association Telethon! We're entering our four thousand eight hundred and fifty-second hour of consecutive broadcasting and fund-raising, and it's all thanks to you… well, you and those giant vats of speed backstage. More »

---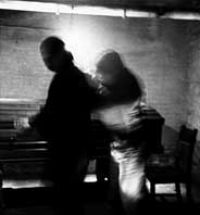 In the mid-'90s, I was commissioned by a midwestern production company to write the script for an independent film, with the following restrictions: a) use a very small cast, b) use primarily a single location, and c) try to incorporate a connection ... More »

---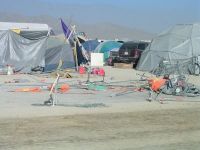 A series of incredibly stupid little plays. We meant to perform them at Burning Man, but you know how it is; sometimes Burning Man just isn't interested in your little "art project." More »

---
From a solitary hotel room, Billy attempts to coordinate the release of a drug called Radioactive Blue across the country. Will he succeed in bringing about mass hallucinations in the populace at large - or will his girlfriend Molly bring his plans crashing down? A radio play featuring Antero Alli and Paco Xander Nathan. More »

---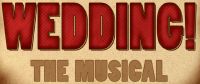 Contrary to popular belief, we did not make up WEDDING! The Musical in a drunken haze one night. Rather, we worked from this script, which has been helpfully annotated to show all you the places where we ripp-- er, paid homage to a number of our favorite pop culture icons. More »

---
About This Site
Log in / create account
Scotto.org FAQ
Scotto's Web Trail
Tumblr
Soundcloud
Twitter
YouTube
This site is licensed under a
Creative Commons Attribution-Noncommercial-Share Alike 3.0 United States License
.
Contact Scotto
Leave a comment in a post! Or better:
Email scotto.moore (at) yahoo.com!